New Aesthetic, New Identities, New Futures for Kosovo Architecture


TECHNO REBEL CONSTRUCTION
At Kosovo Museum. Prishtina
Designed by -Arquitectura Subalterna-
Supported by -Kosovo Architecture Foundation- and -Future Architecture-

.INTERNATIONAL WORKSHOP & LECTURE
PARTICIPATION AT KOSOVO ARCHITECTURE FESTIVAL
︎ Kosovo Architecture Participants - Futurearchitecture.com
︎ KAF 2017 Lectures
- Workshop Tutors: Victor Cano Ciborro + José Javier Cullen + José de Andrés + Ana Sabugo
- Lecture: July 7th, Friday 7PM / Kosovo Museum
by Victor Cano Ciborro, José Javier Cullen, José de Andrés, Ana Sabugo, Arquitectura Subalterna
- 'Techno Rebel Bodies' Workshop: 03 Jul - 10 Jul 2017
directed by Arquitectura Subalterna / supported by Kosovo Architecture Foundation & Future Architecture
- Workshop participants: Egzonjeta Ademaj, Gresa Bytyci, Flaka Brahimi, Ardit Berisha, Lora Deari, Luljeta Hoxha, Shega Emini, Lyra Bakija, Agron Suka, Shpend Hysenaj, Edona Tafili, Enkelejda Zekaj, Drenushe Thaci, Fisnik Durmishi and Krenar Haruni
- Special thanks to: Bekim Leka Ramku, Nol Binakaj, Rudina Voca, Feray Dervis, Lyra Bakija, Butrint Gërçari and Arbnor Dragaj

︎ ABSTRACT


Arquitectura Subalterna will lead a lecture and the Workshop 'Techno Rebel Bodies' at KAF 2017. From a context where Kosovo architecture has not reached a clear identity or defined aesthetic in architectural terms, Arquitectura Subalterna proposes a critical analysis of Modernism both in different European cities and in Prishtina to find the fissures where subaltern, original and non-alienated spatial practices emerged from underground spatialities. In this context, Arquitectura Subalterna runs a Workshop where they will look for these new identities through the different spatial actions originated in Rilindja space because of techno music. Moreover, they will give a speech on different models they have researched in the last year looking for radical, hidden and ignored histories from people who live in contemporary urban peripheries and show the real needs and real actions of the real world.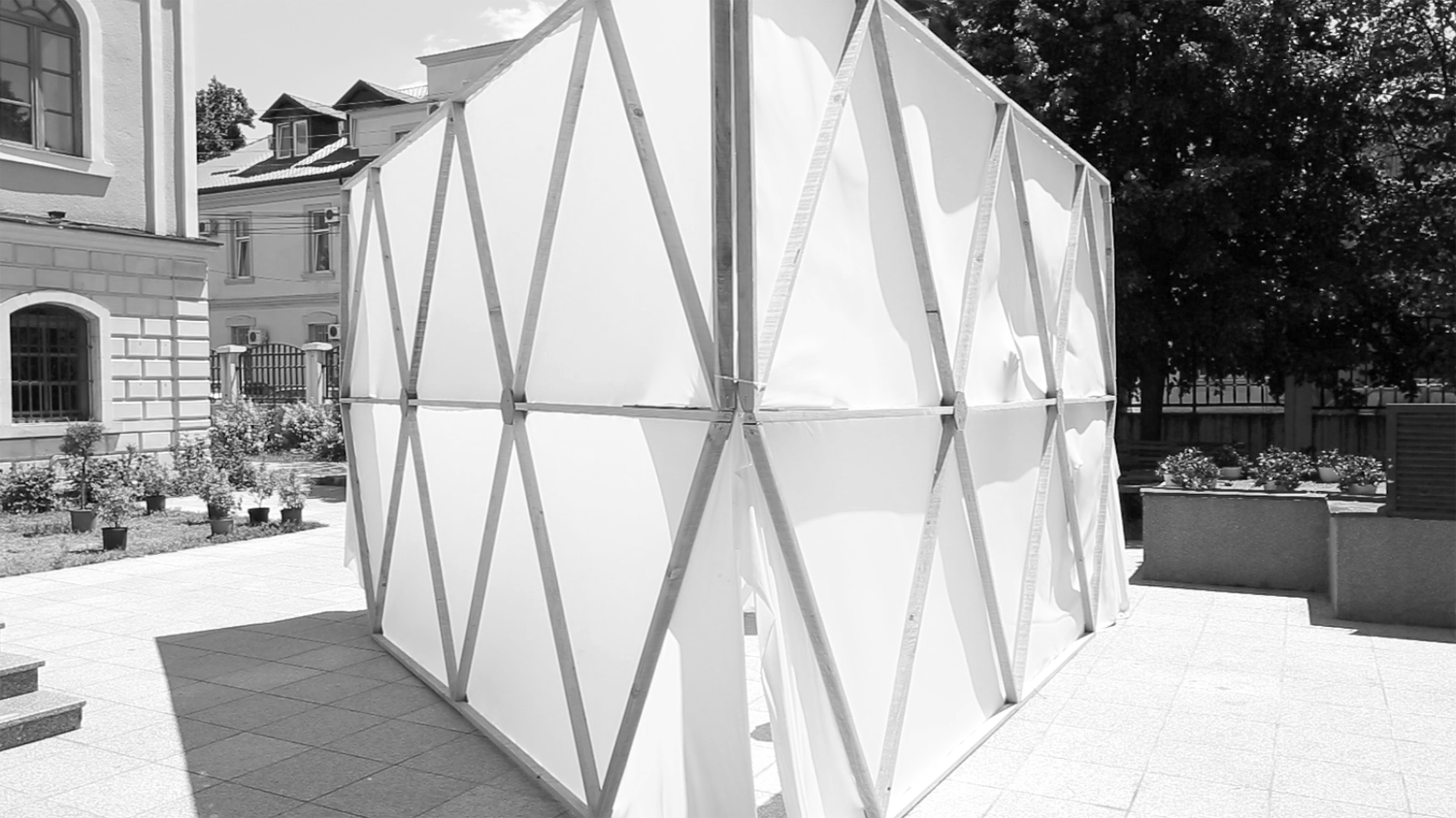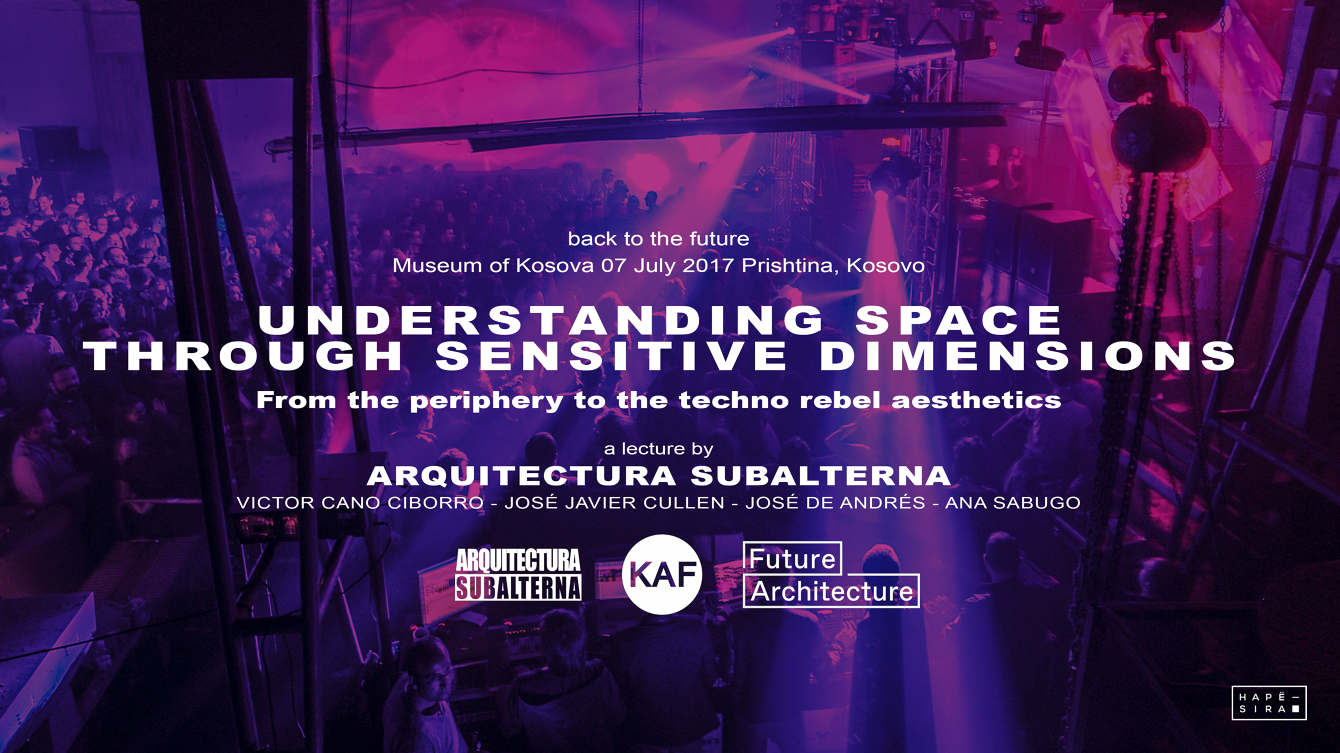 ︎ TECHNO REBEL CONSTRUCTION
︎

Techno Rebel Bodies Workshop - KosovoArchitecture.com



At Techno Rebel Bodies Workshop.
'Techno Rebel Construction' is a sensitive installation formed by a self-supporting timber structure that conforms a triangular piece synonymous with dematerialization and lightness. Dematerialization founded in the corners, where the entrances are situated and the structure loses weight in an attempt to fight against the gravity under the statement: 'Bodies first'. And lightness because of the semi-transparent and ultra-thin skin that wraps the installation. A skin sensitive to any kind of atmospheric or human stimuli: the construction is able to feel.

'Techno Rebel Construction', although stable, looks fragile and ready for taking off at any time. If throughout the day shadows and vibrations are the main effects due to sun and wind, at night the installation turns into an opaque shape that is activated through potent and energetic artificial stimuli such as sounds, projections, colours, brightness, overlaps or sparkles. These actions create a specific spatiality related to Techno Parties, an identity symbol of the Kosovan culture full of amazing, contemporary and own aesthetics whose understanding is as pertinent as fundamental to foster a real and powerful identity for the future of Kosovo Architecture.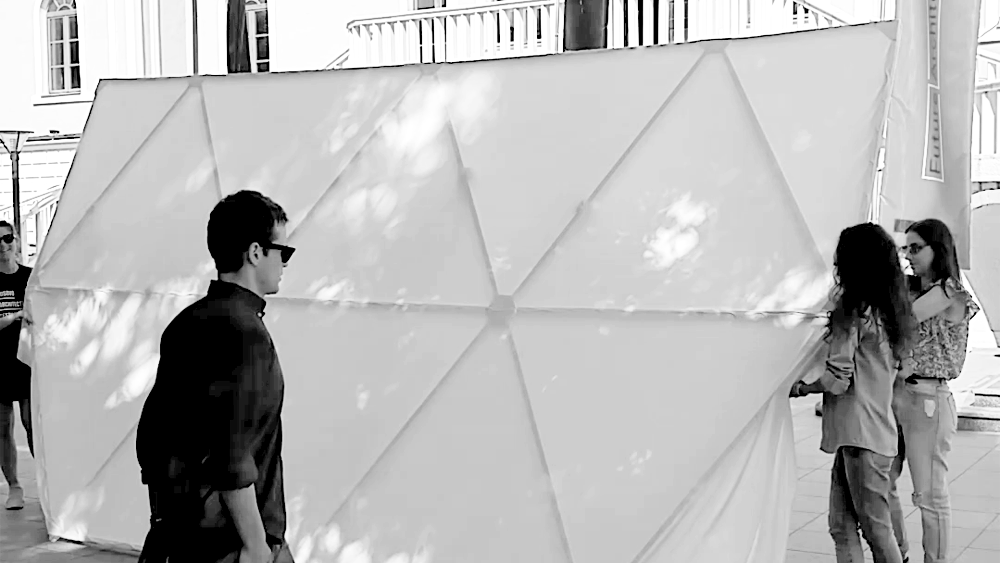 ︎ KOSOVO ARCHITECTURE FESTIVAL
︎

Official website - KosovoArchitecture.com



Kosovo Architecture Festival is organized by the Kosovo Architecture Foundation in partnership with the Future Architecture Platform. KAF is an annual event and its main objective is to present to the local architecture community and the general public the contemporary global theories and methodologies in the field of architecture and urban planning.Kosovo Architecture Festival is the largest event of its kind in Kosovo with more than 40 individual activities in numerous cities in the country. This year the event will be held from the 3rd of July till the 3rd of October in Prishtina, Gjakova, Peja, Prizren, Mitrovica and Ferizaj.

"Back to the Future"
The fifth edition of PAW, KAF17 will under the theme "Back to the Future" focus on problems such as re-destination and utilization of heritage buildings, public spaces and inclusion of communities in decision making in order to enhance economic and social development. KAF will, as in previous years, continue with events such as lectures, debates, exhibitions, open studios & open houses, screenings and numerous workshops led by prominent artists and architects from all over Europe and U.S.